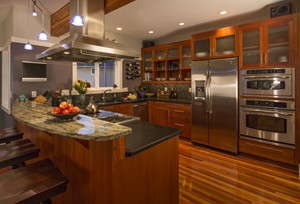 Selling your home may prove to be a long, arduous process, particularly if you're unable to distinguish your residence from others on the housing market. Fortunately, there are many great household items that you can leave behind to differentiate your home from others and improve your chances of a quick sale.
Leaving various household items behind can serve you well in a number of ways. First, you'll be able to give homebuyers an incentive to purchase your residence if you leave custom or high-priced items that they might struggle to purchase elsewhere. You also will be able to simplify the moving process, as you won't have to worry about relocating numerous items that you leave behind when you move out of your current home.
There are many wonderful items that you can leave behind to boost your chances of a quick home sale, including:
1. Refrigerator
If your refrigerator complements your kitchen décor beautifully, it may enhance the appearance of your kitchen. Plus, this appliance could become a key component in a negotiation with a homebuyer that may make it easier for you to maximize the value of your residence.
Your refrigerator may have served you well for years, but you won't have to worry about investing substantial time and resources to move it to your new address if you leave this appliance behind. Also, if you offer your refrigerator as part of your home purchase, it may prove to be the difference between selling your home and keeping it on the real estate market for an extended period of time.
2. Big-Screen TV
The big-screen TV in your den, man cave or living room has helped transformed your ordinary living space into a fun, exciting area. Now, you'll want to consider including your big-screen TV in your home sale, as this could help you streamline the process of selling your house.
By offering your big-screen TV, you'll make it easy for a homebuyer to move in and enjoy a high-quality TV instantly. Furthermore, the big-screen TV may help a homebuyer save time and money, as he or she won't have to worry about finding a new television after purchasing your residence.
3. Washer or Dryer
Let's face it – un-installing and relocating a washer or dryer can be a time-consuming endeavor. And in some cases, you may even need to hire a plumber to perform this task properly.
Lucky for you, leaving your washer or dryer behind could prove to be mutually beneficial for you and a homebuyer.
As a home seller, you won't have to worry about allocating time and resources to move a large, heavy washer or dryer from your residence. For a homebuyer, he or she will be able to reap the benefits of a superior washer or dryer immediately.
Consider the household items that you'll leave behind before you add your house to the real estate market. By doing so, you can include these items in your home listing and improve your chances of selling your house quickly.