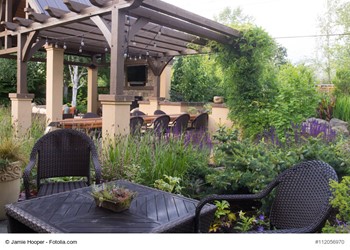 Keep your outdoor surfaces in tip-top shape all year long with these care tips:
Bricks
Bricks are known for their durability but still need to be maintained and cared for. They key here is to be gentle with your cleaning methods as they can wear down and become compromised by the chemicals found in typical household cleaners.
Have you ever noticed how some bricks have a white, chalky residue to them? It's messy, unappealing and 100% preventable. All you have to do is check labels in Winter time! When shopping for deicer avoid those made with calcium chloride.
Stay on top of culling plants growing between bricks. Where there are plants there is more moisture which will inevitably lead to loosening your bricks. Cut plants that begin growing. They will die quickly and easily pull up. Easily remove moss with a mixture of one part bleach to 10 parts hot water
If for whatever reason you find you need to clean brick only use a masonry specific cleaner and scrub gently when using. If there are stains on your bricks you will need a poultice made specifically for masonry staining.
Concrete
Concrete is another outdoor surface known for its durability but that doesn't mean it's invincible. Caring for concrete is similar to the needs of brick.
Clean up oil spills by allowing cat litter to sit on the spot overnight. Repeat until the stain is no longer "pulling" from the litter. If there is a stain left behind a poultice may be necessary (just like with bricks). You will also use the same 1:10 bleach mixture to remove moss from concrete as you would with bricks.
However, when it comes to deicer you will want to avoid a different set of ingredients. Those made with ammonium nitrate or sulfate can break down concrete and so best to be avoided. If you do you gardening in your garage, or your shed has concrete flooring you'll want to be cautious with fertilizer. Wet fertilizer can actually lead to staining on concrete.
To avoid staining there are preemptive measures you can take. Seal concrete helps to make it stain resistant. And to keep it on top form you clean your favorite household all-purpose cleaner and a good scrub.
Wood
Wood is the more high maintenance surface to care for. Wood needs to be sealed yearly. You may find you will need to sand off an existing finish from the previous homeowners before applying a new one. Apply a preservative or stain to protect from moisture and rot.
Clean wood surfaces by scrubbing clean and manage stains with oxalic acid crystals. Powdered oxygen bleach is best used to eliminate existing mold and it's spores. Know that you may have to do this process a couple of times to take care of the spores for good.